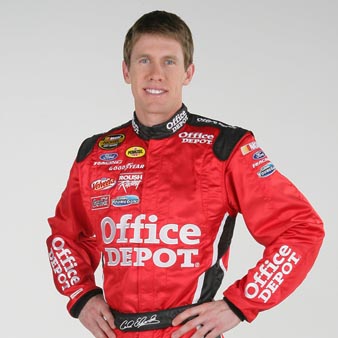 The winner of Office Depot's and Harlequin Enterprises' "Say Yes to a Winning Proposal" contest will have his or her marriage proposal unveiled Saturday at the NASCAR Sprint Cup Series All-Star Race in Charlotte.
The question will go spinning around the track on the back of Carl Edwards' No. 99 Office Depot Ford Fusion. It's just one of the many ways NASCAR sponsors are working to bring the regular fan as close as possible to the sport. The winner also gets a diamond ring and trip to Sedonar, Ariz.
Delray Beach-based Office Depot is collecting entries for its "Official Small Business of NASCAR" sweepstakes through June 22. That contest will allow a business with 99 or fewer employees to put its name on the back of Edwards' car for one race – Sept. 28 in Kansas -- and in a less prominent spot for other races during the rest of the season. The company also gets a $10,000 business makeover and to use "Official Small Business of NASCAR" on stationery and business cards for a year.
The office products company has added a new component to the contest, now in its fourth year: the opportunity to increase your entries by asking friends and family to nominate your business online. The company launched "Connect with Carl," which allows you to send recorded messages from Edwards asking to nominate your business, enter the sweepstakes or just visit the company's racing Web site. The messages can be customized with your name and a variety of descriptions of the recipients – the technology isn't new, but somehow it's always entertaining.

Categories:
Auto Racing (42)
,
Promotions (120)
,
Sponsorship (101)