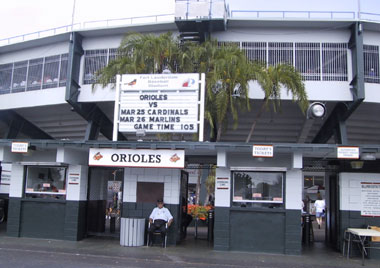 So some politicians and tourism officials aren't ready to give up on keeping the nearly 50-year-old tradition of spring training at Fort Lauderdale Stadium. But are you?
Fort Lauderdale Mayor Jim Naugle, Broward County Mayor Lois Wexler, and Greater Fort Lauderdale Convention & Visitors Bureau President Nicki Grossman are all waxing about the lovely afternoons at the intimate 8,340-seat stadium, the tourists who visit every year and pump more than $25 million into the local economy.
It's been home to the Baltimore Orioles for the past 13 springs and will be again in 2009. Before that, the New York Yankees spent 34 years spring training there.
But that is likely to change now that the Federal Aviation Administration has decided that in order for the team to stay, the annual payment to the airport fund must be $1.3 million. That's up from the $70,000 to $120,000 the Orioles typically pay. That figure has been based on 5 percent of the gross revenues generated at the stadium.
Now that the Orioles are seeking a long-term lease to go with a $40 million overhaul of the venue (being financed with the help of tourist taxes from Broward county and a state sales tax rebate), the FAA says it must receive fair market value for the property, a figure it places at $1.3 million. If the Orioles were still on a year-to-year lease, this issue would never have surfaced. The stadium sits on airport land that was deeded to the city of Fort Lauderdale in the 1940s.
The Orioles, who are said to have an option agreement to move to Dodgertown in Vero Beach, which is being vacated by the Los Angeles Dodgers, aren't saying anything publicly other than they are disappointed with the FAA's decision.
U.S. Rep. Ron Klein, who had helped broker meetings among the FAA, Fort Lauderdale and Orioles officials, wants to make sure the FAA is reading the law governing the lease of airport property accurately and if it's not, whether the payment can be reduced.
There was a time when spring training was rampant in these parts: the Yankees in Fort Lauderdale, the Orioles in Miami, the Texas Rangers in Pompano Beach, the Montreal Expos and Atlanta Braves in West Palm Beach. Those teams have moved on. The bus rides get longer for the Orioles, whose closest spring rivals are now in Jupiter or Fort Myers.
Would you miss it if it were to leave? Do you want to see Fort Lauderdale Stadium preserved? Take our poll here.

Categories:
MLB (110)
,
Spring Training (11)